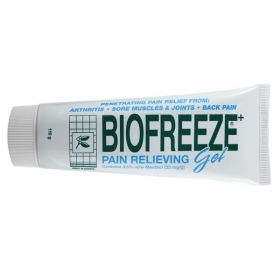 Biofreeze Pain Relief Gel - 110g Tube
Biofreeze pain relief gel for minor muscle and joint discomfort
Code:
PER-12651
Pain relief for up to 4 hours
Biofreeze products use the cooling effect of menthol, a natural pain reliever, which penetrates the skin quickly to sooth minor muscle and joint pain. Biofreeze products help manage discomfort by offering a variety of benefits that assist in therapy, pain relief, exercise, training and overall comfort.
Biofreeze helps relieve pain from
Muscle aches and spasms

Pain in waist, back, shoulder, neck, knee, hip, elbow and ankle

Arthritis and tendinitis pain

Sore muscles

Pain from injury during sports and exercise

Painful sprains, strains, bumps, pulls and bruises
Ingredients
Isopropyl Αlcohol, Μenthol & Herbal Extract (Ilex Paraguariensis). Camphor, Carbomer, Glycerine, Methylparaben, Propylene Glycol, Silicon Dioxide, Water, Triethanolamine, FD&C yellow #5, FD&C blue # 1.