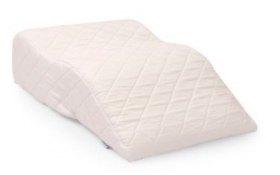 Cushion - Leg Relaxer - Quilted Cover
Designed for use on the bed, this contoured leg elevation pillow wedge helps to alleviate back and leg pain
Code:
PO720
Designed for use on the bed, this contoured leg elevation pillow wedge helps to alleviate back and leg pain by raising legs for improved circulation and vascular drainage. Also useful in reducing the risk of pressure injury by raising heels off the mattress surface.
Ideal for those with varicose veins, phlebitis, swollen legs, feet and ankles, or for general use during pregnancy and convalescence.
Available with either a removable, quilted cover for maximum comfort or a hospital grade, moisture resistant, bacteria inhibiting Steri-Plus™ cover for maximum infection control and incontinence protection.