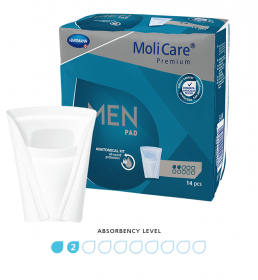 Premium Men Pad 2 Drop
Anatomically shaped pads for light and moderate bladder weakness, providing secure protection while maintaining healthy skin.
Code:
168600
Anatomically shaped pouch designed to suit the male anatomy for very light bladder weakness providing secure protection while maintaining healthy skin.

Providing discreet wearing comfort with breathable textile like backsheet, soft topsheet and odour neutralizer.

With wide adhesive stripe for secure and comfortable fixation in regular underwear.

Skin friendly because of soft and breathable material.

Skin friendly due to antibacterial character and pH buffering effect which helps to maintain a skin neutral pH value of 5.5.

All-round protection is provided by fast absorption, anti-leakage system and odour neutralizer.

Dermatologically tested.