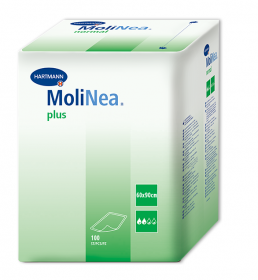 MoliNea Underpads Plus 60 x 90
MoliNea is a lightly absorbent underpad to help protect bedding and furniture.
Code:
161600
MoliNea is a lightly absorbent underpad to help protect bedding and furniture.
Features
30 products per pack

Protective waterproof backing

Non-woven top sheet protects the skin from irritations and providing a soft, comfortable feel

Elastic foil is stamped at the edges to avoid leakage at the sides and prevents the underpad from moving

MoliNea Underpads Normal can absorb up to 1200 ml of liquid.

Dimensions are 60 x 90 cm.